Our current laundry is at the back of our house with just the bare minimum and it is essentially outside. The little dogs have their bed in it which they sleep in during the day, it's not exactly I very clean environment when transferring clothes around. That's not to say it doesn't work, it does! I can do our laundry in it but we have the opportunity to update it, add storage, a sewing table and a place for the big dogs to sleep (currently in a crate in our living room) so why wouldn't we! In this stage of the renovation we are taking on the laundry, a new bedroom and bathroom, an office and separate toilet. Some of it is a change of location, just a bit of an update and some up is it starting from scratch.  We are lucky in that we are not making any structural changes and all the plumbing is already in the right place. In this post I am just going to cover the laundry, there is so much to go into for each room! And then I have a feeling each project will end up having its own post too, there is so much research and so many ideas that go into each aspect.
New Dog Zone 
Currently we have the two big dogs created together at night as well as the two little together. The big crate is in the living room and it takes up a lot of space, the little two are in our wardrobe, they take up less space but I would love to be able to forgo the crates altogether. During the day the little two have a bed in the laundry which is fine as the door is always open and they can go in and out but it's not ideal. So we plan on including a dog zone in the laundry, we have the space and it's the perfect spot for them. Behind the bench there is an opening that goes under the stairs to the plan is to open that up, put a gate on the front and create a built-in crate! I questioned building it in under the stairs, mostly as I was thinking about having to vacuum and clean it but I have been assured it will be big enough to get into.
I am not sure about the doors yet, I don't want it to feel or look like a jail but we do want door. We also need to work out what colour we will paint it, white seems logical as the walls will be white. But the cabinetry will be a dark grey and I have a feeling white will get very dirty. I will see if I can find a colour to match the cabinets but if it's not an exact match I will go in another direction.
http://roomfortuesday.com/real-life-the-dog-towel/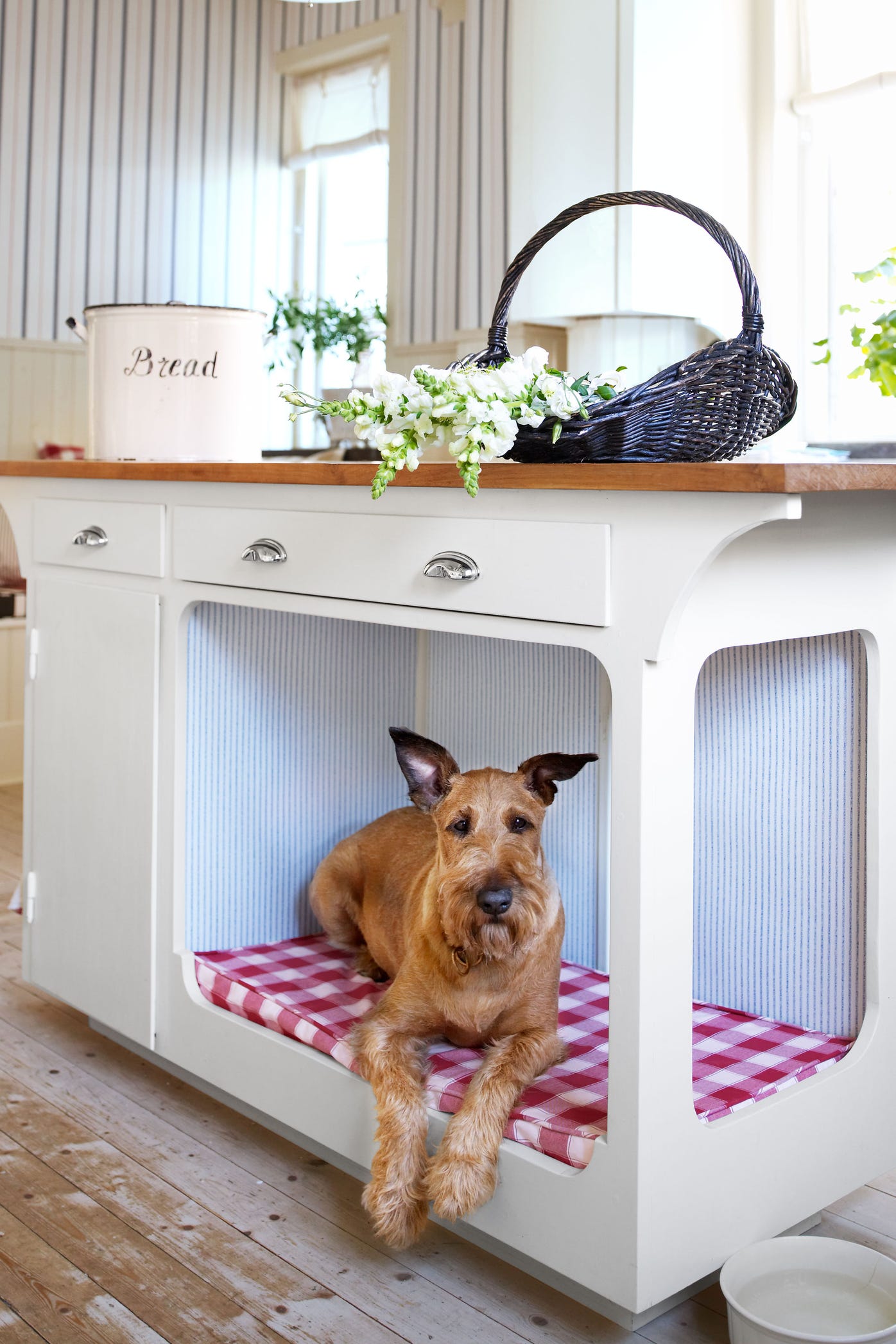 https://www.housebeautiful.com/home-remodeling/diy-projects/g3235/guide-to-home-renovation/?slide=4
http://www.homebunch.com/interior-design-ideas-7/
Open Shelving 
I am in two minds about opening shelving. I would quite like to have some, maybe even a whole wall but this isn't just my decision and he want's all cupboards. More storage, his words "I'm not going for a design award." Which I agree with but I still want it to be aesthetically pleasing. And I like being able to have thins on a shelf within easy reach as well as being able to display a few vases. Compromise will have to be found somewhere, we have decided not to 100% commit to what cabinet or shelving options we will choose until the room is done but there will be some opening shelving. We are going to have a tiled backslash too, so I will need to decided if it goes the whole way up the wall. I'm still not sure what we make the shelves out of, I have a feeling wood will be the suggestion made when we finally get to deciding.
https://www.desiretoinspire.net/2015/04/15/dream/
http://beckiowens.com/brio-project-laundry-room-reveal-design-tips/
http://houseofturquoise.com/2015/07/ashley-winn-design.html
Cabinetry
We are going to go with kit set cabinets from M10, we toyed with the idea of making our own but the time it would take to get them done is just not something we have. And making our would actually end up being more expensive. There isn't a huge range of colour options but they do have a large range of designs and draw options so I am sure I will be able to meet all my storage dreams!
Where I get to have a bit more fun will be the handles we can choose!
https://www.decorpad.com/photo.htm?photoId=140294
https://www.pinterest.nz/ebaycouk/
Bench
The laundry bench is still very much up for debate, the idea was to make a white concrete bench top. We have never done anything like this before, but the husband is confident in his abilities to make one. I am too but it comes down to a time thing, we need the bench to install the cabinets, sink and shelving. So it is something we need to decide on, we need to talk to our builder about it. I think he will have some good ideas and advice about what we should do!
backsplash 
I am really excited about having a backsplash (its the small things right), not only is it logical to have and will it make cleaning easier but it means I get have patterned tiles. I am not sure how far up the tiles will go, or even where exactly they will go. If we have two benches and only one has a sink I guess we don't need a backsplash on both but it will look better.
I have been looking around my perfect pattern tiles and I have to say there isn't much out there. I may need to look at an alternative, perhaps a block colour or white…
http://www.welshdesignstudio.com/laundry-room-finally-done/
Sewing Area
I love sewing, but hardly get to do it at the moment. It means I have to take over the dinning room, so when I get it out I have a blast of projects then it goes away from another 6 months. We have space in the laundry for me to set up permanent sewing table and I am so excited! I plan on keeping it pretty clear when I'm not using it so we can have it to fold laundry on, so I will have cabinets installed above the table so keep everything.
http://blog.megannielsen.com/2015/11/tour-of-my-workroom/?utm_content=bufferc8258&utm_medium=social&utm_source=pinterest.com&utm_campaign=buffer
Flooring 
Initially we were going to go with laminate flooring through the laundry, office and bedroom but on the advice of our flooring guy we are going for laminate. I am not a fan of the faux wood/stone look, especially as it will be flush to our real wood floor. So I have decided on a black and white pattern, quite a traditional look. It's not something  I would have chosen off the bat but now we are having it I am really excited about it. I have already ordered a rug for the room too, it will make being in there a bit warmer and we who doesn't love a rug!
https://www.plainenglishdesign.co.uk/projects/
https://www.digsdigs.com/76-stylish-truly-masculine-bathroom-decor-ideas/
Door
I have never been afraid of colour and whenever we decide to do I space I am the first to ask if I can paint it anything but white. So far the compromise has been 'no, you cant', so when I first mentioned painting the door pink I was very surprised to hear a positive response. He wants more of a fuchsia, I am leaning a bit softer so we will see where we end up. We are going to reuse the existing external door, it has beautiful stained glass and really is a lovely door (and it will look even better pink).
http://www.designsponge.com/2016/05/infusing-color-life-and-diy-charm-to-a-cookie-cutter-family-home-in-albuquerque-new-mexico.html
https://www.classyclutter.net/pv-laundry-room-makeover//
So watch this space!